The German Immigrant Henry Heise (1842 - 1917)
Introduction
Henry's Birthplace
Private Correspondence re:Emigration
Transportation
The Heises Emigrate to Preston, Canada West
Henry Heise Becomes a Master Cabinetmaker
Henry Heise in Business for Himself
Family of Henry Heise and Dorothea Stumpfle
Descendents Remember Henry Heise
Bibliography
The Heises Emigrate to Preston, Canada West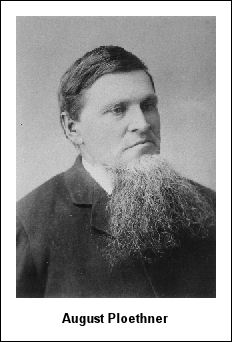 Henry's two eldest siblings, Martha (19 years old) and Carl (16 years old), booked passage from Hamburg to New York in Spring, 1851, through the Thuringischen Verein für Deutsche Auswanderung zu Weimar (The Thuringian Club at Weimar for German Emigrants). [30] Upon arrival in America, Martha made preparations to continue north to the village of Preston, Canada West -- where her fiance August Plothner [31] was now living -- and Carl headed towards his Uncle Mierstedt's home in Louisville, Kentucky.
Preston was located on the north bank of the Speed River, north of its junction with the Grand. It was at the terminus of important roads from Dundas, Waterloo, and Woolwich Township, and lay on the Huron Road which linked it with Guelph. Its site offered the best water-power resources in Waterloo County, as well as room for urban growth on the wide, level terrace of the Speed's south bank. Before the incorporation of Berlin, Preston attracted more European immigrants that any other local village. [32] In 1851, 72% of the population was German or of German descent. The successful development of Preston in these years has been attributed to an immigrant labour force already skilled in the trades and industry, which could make full use of the available resources in the neighbourhood. [33]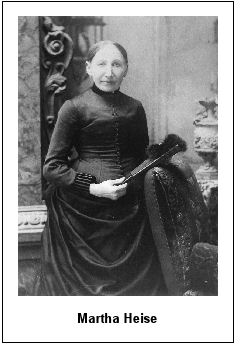 August Plöthner was an established weaver in Preston, and Martha set up a millinery business at the front of his shop. Friederich Guggisberg operated a furniture factory just down the road by the Speed River, where Carl Heise came to work as a cabinet-maker late in 1851.
On August 15, 1852, Henry (aged 10) and Christian (aged 12) emigrated with their parents Christoff and Maria Heise to Preston via the Hamburg-New York steamship line. Christoff found employment as a woodturner with Guggisberg, [35] and the two boys went to the village school operated by Otto Klotz.
Economic opportunities looked promising. Preston had been incorporated as a village on January 1, 1852. Later that year Preston subscribed $40,000 worth of stock in the Galt and Guelph Railway Company, in exchange for the promise of a station at Preston. Preston seemed to be on an equal economic footing with all other Upper Canada centres -- even Toronto stood out mainly for its administration functions rather than its commercial activity. [36] It was thought that any place with railway connections had the same advantages for industrial location as any other. [37] "In the next decade, however, the growth of grain export trade, the increase in local commerce, the rise of towns, and the coming of the railway began the transformation of Upper Canada. A scattered community of backwoods settlements was becoming an integrated, commercial, agricultural society, in which the business class was steadily rising to prominence, and through which the metropolitan pull of the city of Toronto was making itself felt ever more strongly". [38]
The population of Preston was essentially German. Henry studied in English at school, but upgraded his native language in the Saturday morning German classes, and learned to sing English and German songs in harmony. "The singing teacher, whether old Jacobs with the patriarchial beard, or Robert Blackwood, was proficient on the violin or fiddle, making the learning of a song thereby very easy, besides giving swing and verve to the music". [39]
Punishment was of the heroic kind -- physical suffering. The teach generally had an armful of blue-birch switches about six feet long in a corner beside the desk, supplied on demand by a boy or boys, from the woods behind the school. These were applied to the outstretched hand, and would wear shorter and shorter, until a new switch was requisitioned. Another form of punishment was benchery, almost exclusively confined to boys. The teacher would firmly grasp the victim's neck, hold the head on the desk, and beat him on the bottom with a ruler. [40]
Henry probably knew from memory the German poem composed by a neighbour, Jacob Benner, which was reprinted many times and recited at village festivals. Following is a versified translation:
German [41]

To be German is my pleasure,
For I'm German to the core;
Those who fill the German measure,
Are the ones whom I adore.

German I shall be forever,
Since a German I was born.
Reading, writing German ever,
Shall my heart and hand adorn.

German customs, German manners,
German prayer and sermon too,
Wave o'er German ways their banners,
Since in them they're ever new.

German press and German learning,
Held aloft the German name.
Who can cease his German yearning,
Forever it exerts its claim.

German drink and fare I favor,
German dress is unsurpassed:
It's the German way I long for,
From the first until the last.

What is German, let us cherish,
We whose German blood runs true,
So that German here may flourish,
And from age to youth renew.

May then German seeds be growing,
In our North America;
Might its joys to us be flowing,
Here in Upper Canada.
Henry belonged to the Preston Turn-Verein (Athletic Club) which promoted physical development, anti-Semitism, and German culture. During the summer months, practices were held on Tuesday and Saturday evenings under the supervision of a Turnwart (trainer). The Turn Platz (practice grounds) was located at the corner of present-day Hamilton and Wellington streets. Exercises were performed on the horizontal bar, parallel bars, spring board, climbing pole, suspended iron rings, and turnstile. At times the evening exercises conclued with a Dauerlauf (endurance test) where, in a game of follow-the-leader, the group would jog for miles until they returned to the starting point with a few missing who had given out on the test. [42]
Every year there was a Turn Fest (Athletic Festival), generally of a day's duration, and every few years there was a Turn Fest of all the Vereine which would extend over two days. "The Turners would gather all dressed in white, form a procession, and headed by the village band and banner would parade the main street, then assemble at the Turnplatz for an opening address followed by athletic competitions with prizes". At times there would be a Vogel-Schiessen (Bird-Shooting Contest) with crossbows and dummy bird. A huge eagle was assembled of detachable pieces of wood with score values, and erected as a target on a high pole". [43]
There was invariably drama in the evening, followed by a dance. Beer was the only beverage, accompanied by pretzel and smoked sausages. The plays were conducted in German, with local talent, on the stage in Roos' Hall. The Fussler (prompter) sat within the wooden covered hood before the stage". [44]
Shortly after ten the theatre ended, chairs were moved to the side of the hall, and dancing began. The children were sent to bed.
In his final year of school, 1856, Henry entered a public competition to be held in the Berlin Court Room on July 20, for the twenty-seven best students in Waterloo County. [45] Doctor John Scott, Warden of the County of Waterloo, engaged Mr. John Sangster as the examiner. Henry placed first in English Penmanship and Calligraphy, first in German Penmanship and Calligraphy, and second in Linear Drawing. He did not place in the test for Mental Arithmetic, Practical Arithmetic, Theoretical Arithmetic, English Grammar, German Grammar, Geography, English History, Natural Philosophy, Astronomy, Algebra, or Geometry. [46]
With his theoretical education behind him, Henry Heise set his mind to learning a trade.
---
30.Information retained on original ticket stub.
31.August Plothner was a Lutheran from Weimar, not far from Mulhausen, and probably became acquainted with Martha there.
32.Haldane, E.A., The Historical Geography of Waterloo Township, 1800-1855, (Master's Thesis, 1963), p.141.
33.Ibid., p.140.
34.St. Peter's, op.cit.
35.Ibid.
36.Underhill, F.H., "Some Aspects of Upper Canadian Radical Opinion in the Decade before Confederation," Upper Canadian Politics in the 1850's, (Toronto: University of Toronto Press, 1967), p.40.
37.Spelt, Jacob, Urban Development in South-Central Ontario, (Toronto: McClelland and Stewart Ltd., 1972), p.171.
38.Underhill, loc.cit.
39.Klotz, Otto, "Preston," Waterloo Historical Society, (1921) p.181.
40.Ibid., p.181
41.Herbert Karl Kalbfleisch, The History of the Pioneer German Language Press of Ontario, 1835-1918, (Toronto: University of Toronto Press), pp.117-118.
42.Klotz, op.cit., p.173.
44.Ibid.
45.Record of Board of Examiners for Waterloo County (unpublished M.S.) n.p.
46.Ibid.